Members of the Green Chemistry Campus Community can gain access to a range of specialized laboratories for upscaling biobased innovations. Not only at the Campus itself, but also at partners in the region with whom we work closely together.
The Green Chemistry Campus has a process laboratory at its disposal where experiments can be carried out within fume hoods and in laboratory setups. You can rent office space and/or a flex desk to enable you to immediately process the results of your experiments. In addition, you can also receive support in the areas of finance, marketing and technology. And if you want to scale up your innovations even further, you can use our new demo area as from the end of 2018.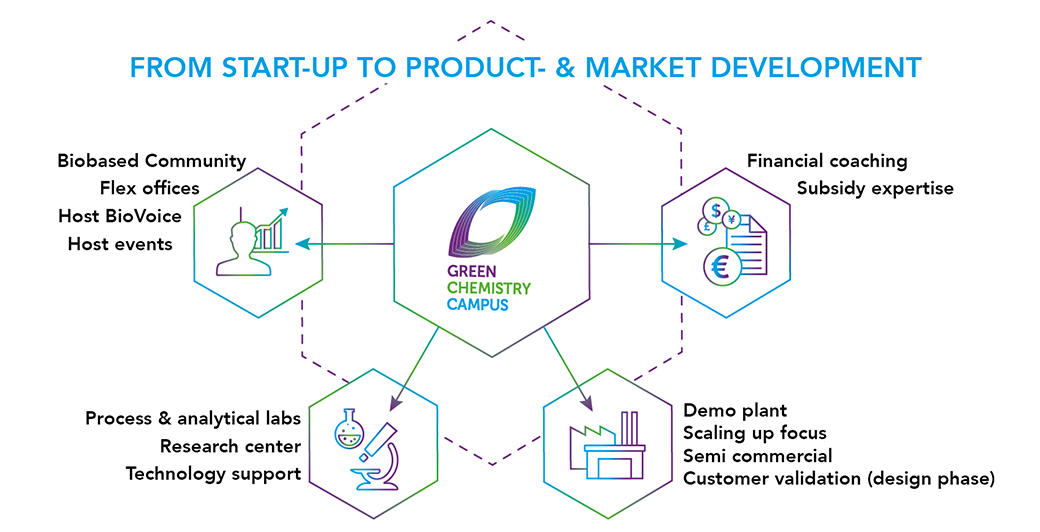 Specifically, you can access the following research facilities via the Campus:
Raw material analysis: Instrumental, Wet chemical
Analysis of reaction products: Instrumental, Wet chemical
Polymer characterization
Polymer testing
Fiber characterization
Microbiology
Elemental analysis
Microscopy
Paper testing
Life Science analysis
More information
Would you like to know more about the laboratories of the Green Chemistry Campus and its partners? Please contact us for a free introductory meeting including a guided tour.
Photos: SABIC Innovative Plastics Bergen op Zoom