24-04-2020
TNO's Energy Transition Unit Joins Biorizon's HQ at Green Chemistry Campus
TNO's Energy Transition Unit (former ECN) is joining Shared Research Center Biorizon at the Green Chemistry Campus in Bergen op Zoom, an incubator for the upscaling of sustainable materials and chemicals for the building and packaging industry. At the Campus, TNO will be working on bio-aromatics that can be applied in bitumen, rubber, marine fuels and resins. Now, all 3 horizons (research lines) of Biorizon are being represented at the Campus, that also functions as Biorizon's headquarters. This further strengthens both Biorizon and the biobased economy in the region.
TNO's Scale-up Manager Sergio Rios is keen to join the Green Chemistry Campus: "The Campus is an industrial platform, and an essential player in the region working for a sustainable bio-economy. This perspective motivates us to strengthen our partnerships within Biorizon, aligning our vision and working together toward the same goal of developing valuable applications for a sustainable industry".
Bio-Aromatics: Impactful Green Alternative for Chemical Industry
Shared Research Center Biorizon, an initiative of TNO and VITO, has been co-creating technologies for the production of bio-aromatics at the Green Chemistry Campus in Bergen op Zoom since 2013. Together with industrial partners, Biorizon creates and develops innovative chemical processes for the production of renewable aromatics from residual biomass.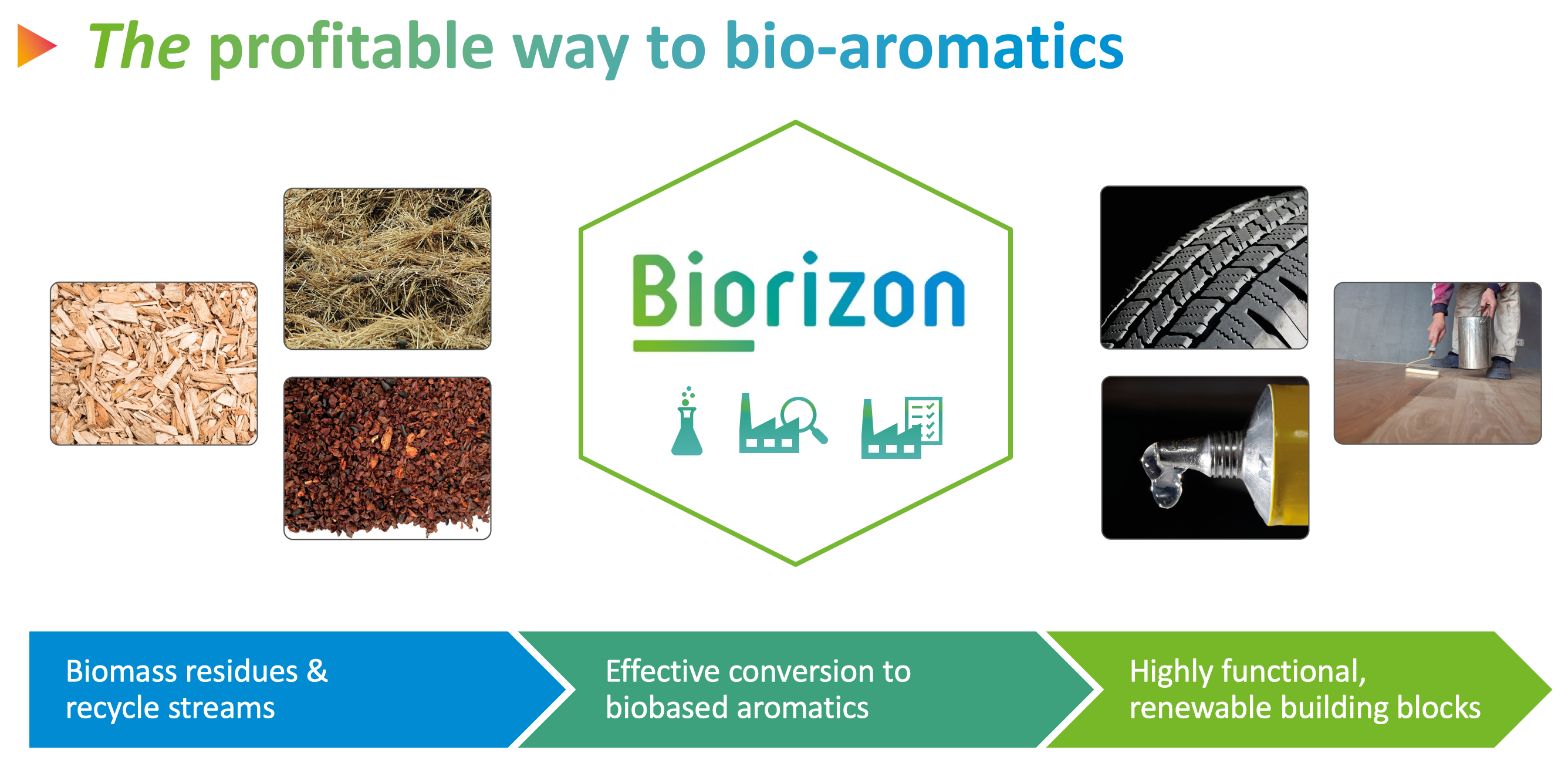 Aromatics are important building blocks for the chemical industry: no less than 40% of chemicals are aromatic, and they bring essential functionalities such as durability and thermal and UV stability to products like plastics, resins and coatings. Bio-aromatics provide new functionalities and an impactful and green alternative for current petrochemical products that are difficult to re-use or recycle, including paints, adhesives and lubricants. Biorizon's aim is to enable commercial production of bio-aromatic building blocks by 2025.
Biorizon's Thermochemical Conversion of Biomass to Bio-Aromatics Horizon
TNO's Energy Transition Unit (former ECN) is responsible for Biorizon's Thermochemical Conversion of Biomass to Bio-Aromatics Horizon. Starting from lignin or lignin-rich feedstocks, the overarching goal is to thermally depolymerize the material via pyrolysis and recover the pyrolysis vapours in a limited number of fractions that can be deployed as biobased additives for applications such as bitumen, rubber, marine fuels, resins and as feedstock for extracting high-value bio-aromatics.

PYRENA-PYPO: Continuous Pyrolysis Pilot for Biobased Additives & Aromatics
TNO has been developing various in-house technologies, such as FABIOLA for innovative fractionation of lignocellulosic biomass and PYRENA-PYPO, pyrolysis for renewable aromatics with closely coupled pyrolysis product obtention. The PYRENA-PYPO equipment will be installed in the demo facility of the Campus to produce test samples for industrial application. It's a continuous pyrolysis pilot unit consisting of a 5-10 kg/h (input basis) pyrolyzer, PYRENA, with a closely coupled unit PYPO for fractionated recovery of the pyrolysis vapours. The technology uses an innovative downstream cascade approach to obtain different fractions with high potential for applications regarding biofuels and biobased materials. Furthermore, all the surrounding analytical equipment will be installed to characterize the full process chain, from feedstocks to products.
Call for Participation & Contact Information
Biorizon wants to actively involve industrial, governmental and academic partners interested in products and applications. TNO's Energy Transition Unit is currently looking for expertise regarding characterization, separation and upgrading of specific pyrolysis fractions. This expertise is needed to further strengthen an existing consortium that aims to work on the valorization of an important Dutch agro-food residue via the PYRENA-PYPO technology.
If you think you can contribute or if you want to discuss other topics related to the thermochemical conversion of biomass to bio-aromatics, please contact Biorefinery & Upscaling Consultant Biomass & Energy Efficiency Sergio Rios via +31 (0) 61 539 88 41 or sergio.rios@tno.nl.