14-07-2016
Consortium scales up production of bio-aromatics from waste
Turning waste, that would otherwise be incinerated or end up in landfill, into valuable raw materials for the chemical industry is the challenge being undertaken by a consortium of 12 companies over the next 18 months. Biodegradable waste, nappies, compost and sieving material from wastewater will be converted to aromatic compounds, such as those used in the production of plastics. The innovative Waste2Aromatics project, from the Biorizon Shared Research Centre, will bring the commercial production of cost-competitive bio-aromatics, along with the circular economy, significantly closer.
Aromatics are one of the main feedstocks of the chemical industry, constituting 40% of the total market. Currently, these are exclusively produced from fossil sources, generating considerable CO2 emissions. "This is a key milestone," says Monique Wekking, business development manager of Biorizon/TNO. "At the end of last year we convincingly proved that it is possible, on a lab scale, to convert waste streams into furans, the raw materials for aromatics, with a highly promising business case. We are now scaling up and working towards our ultimate goal: commercial production of bio-aromatics."
Unique collaboration: open innovation throughout the whole chain
A unique aspect of this follow-up project is the broad consortium in which all links of the value chain are represented: waste processors (Orgaworld, AEB, Twence, Association of Waste Processors, Knowaste), water treatment companies (Stowa, Waternet) and organisations (Biobased Delta, Amsterdam Port Authority), a designer and builder of pilot facilities (Zeton), and a large scale user of aromatics in the production of polymers (SABIC).
Under the Biorizon Shared Research flag TNO will coordinate the Waste2Aromatics project providing the technologies required to convert the waste streams. The project, with a budget 1.3 million euros, is being funded for 46% by the industrial consortium and for 53% by the Top consortium for Knowledge and Innovation (TKI) Chemistry.
From heterogeneous waste via furans to aromatics
To produce bio-aromatics from biodegradable waste, the (hemi)cellulose present in the organic fraction must be converted into furans. Two technologies, already proven on a lab scale, are employed for this catalytic thermochemical conversion: superheated steam (SHS) and bi-phasic reaction (BPR).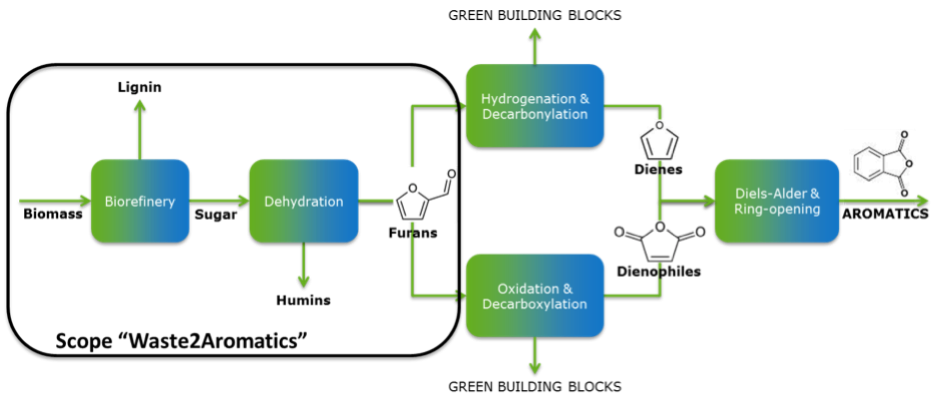 Biorizon's programme line 'Sugars to Aromatics', in which the Waste2Aromatics project plays a crucial role by developing technologies to supply cheap furans.
This project is geared to improving yield, reducing production costs and boosting confidence in the technologies by scaling up from laboratory to test scale (litre/hour). Attention is also being paid to the pre-treatment of waste streams, utilisation of by-products and the business case. Ultimately, the project will produce a blueprint for a pilot plant for the conversion of waste into furans that could be operational at a waste-processing company in 2019.
Profitable and sustainable prospects for the chemical industry
The Biorizon Shared Research Centre, an initiative of TNO, VITO and Green Chemistry Campus, is working with partners to develop technologies to produce aromatics from organic waste. This will reduce dependence on petroleum and lead to lower CO2 emissions. By using waste streams as a raw material, Biorizon is helping to enable the transition to a circular economy and offering profitable and sustainable prospects for the chemical industry and its supply chain.
More information
More information about Biorizon: www.biorizon.eu
Become a member of the Biorizon Community: www.biorizon.eu/community
Check out an extensive management summary containing the key results of the previous phase of the Waste2Aromatics project, including images in the Biorizon Community Library: www.biorizon.eu/community/library
To find out more about (participating in) Waste2Aromatics or about Biorizon, contact Monique Wekking +31 (0)6 46 84 73 58.
This press release is also available in Dutch via Green Chemistry Campus.