01-03-2018
Rubia 100% Natural Colours moves to Green Chemistry Campus
{news_intro}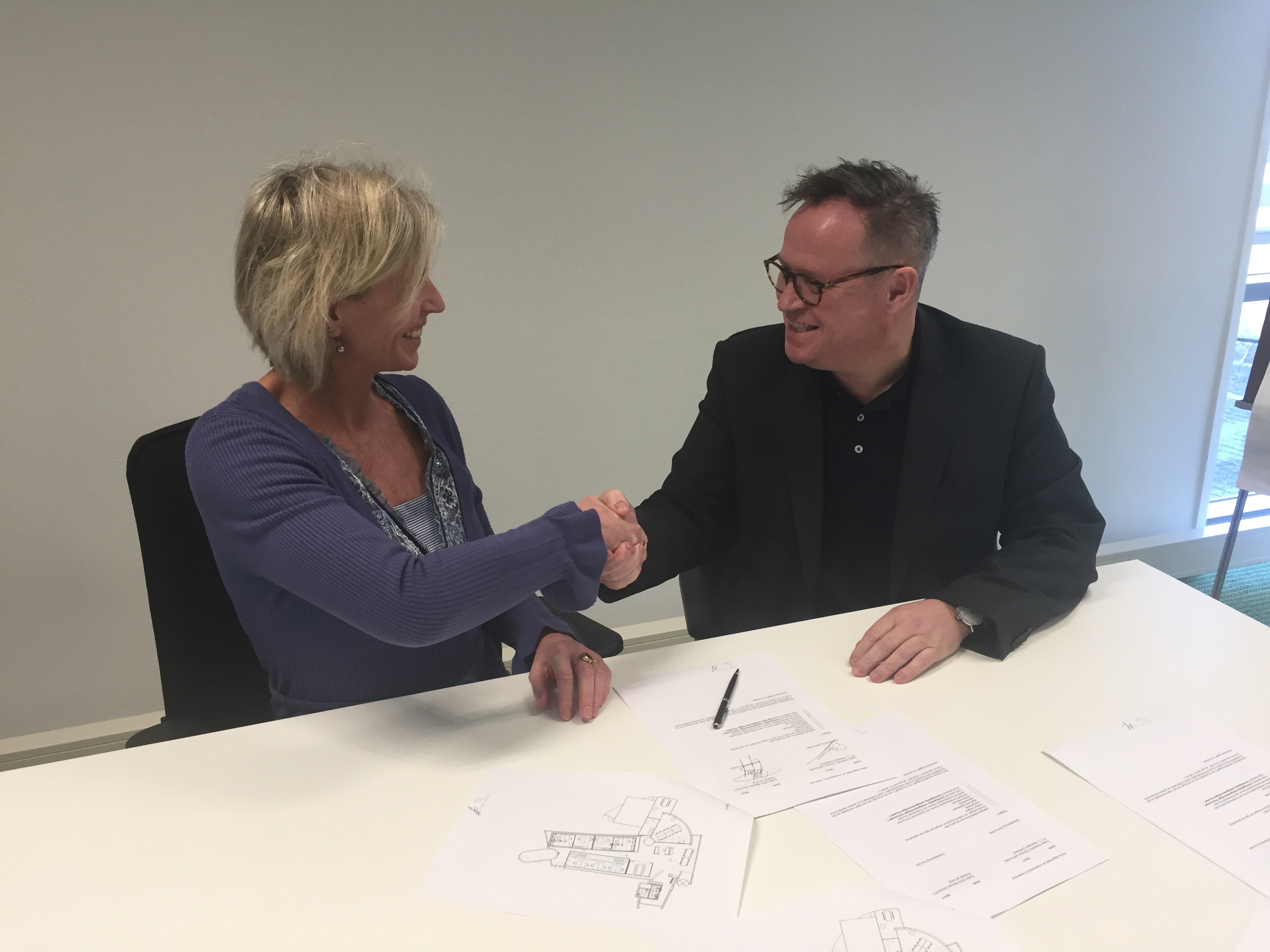 Green Chemistry Campus Director Petra Koenders & Rubia 100% Natural Colours director Rudolph de Jong shake hands after signing the contract.
In 2017 Rubia 100% Natural Colours has successfully restarted its operations. Now, the new management team is fully committed and energized to further develop their unique product.
"The Green Chemistry Campus is an evident location for our company", explains Rudolph de Jong, director of Rubia 100% Natural Colours. "Natural colours form one of the Campus' focus areas, the required lab equipment is available and the Campus is located in close proximity of our production facility in Steenbergen".
Petra Koenders, director of the Green Chemistry Campus adds: "Furthermore, in the late summer of 2018 we plan to open our new demo facility that will allow companies to scale-up their innovations even further."
About Rubia 100% Natural Colours
Rubia 100% Natural Colours produces natural colours for the carpet, textile and clothing industry. Around the municipality of Steenbergen, farmers grow plants like 'meekrap' and 'wouw', commissioned by Rubia 100% Natural Colours. These plants, that are grown in this region for centuries, contain natural colours that Rubia 100% Natural Colours extracts by using a patented process. The company works and has worked together with frontrunners in the field of sustainability like Desso, ADIDAS and fashion designer Stella McCartney. In 2009, the Dutch queen Maxima was wearing a 'Rubia' red dress at the occasion of the national 'Prinsjesdag' day, designed by Dutch fashion designer Jan Taminiau.
The CO2-footprint of Rubia 100% Natural Colours is positive - in the process where the colours are being produced, more CO2 is absorbed than emitted - and the Product Life Cycle of Rubia 100% Natural Colours is fully circular. Rubia 100% Natural Colours operates in accordance with the Cradle to Cradle principles and received the C-2-C certificate in 2012.
About the Green Chemistry Campus
At the Green Chemistry Campus in Bergen op Zoom entrepreneurs, governments and knowledge institutes closely work together on the upscaling of new, sustainable materials and chemicals for the construction and packaging industry. Renewable feedstocks such as elephant grass, organic domestic waste and wood waste form the basis. The Campus offers facilities such as laboratories, a demo facility and office space, but also support in the fields of financing, marketing and technology.
Companies that establish themselves at the Campus have already proved that their idea for a biobased product works on a small scale. At the Campus they bring their idea to the next stage to prove that their product can be produced with a constant quality at a larger scale as well. The new demo facility - of which the construction has recently started and that will be officially opened by the late summer of 2018 - will play an important role in this.