The Circular Biobased Delta network
Benefit from the network of the Circular Biobased Delta
If you join the Green Chemistry Campus Community, you will immediately be included in the high-quality and versatile network of the Campus. From governments to knowledge institutions, from SMEs to large industry and from financiers to substantive experts: you can count on active mediation.
Green Chemistry Campus is part of the Biobased Delta network. This is an ecosystem in the southwest of the Netherlands consisting of various companies, biobased application centers and knowledge and educational institutions that are involved in greening existing products and / or processes. Top locations, seaports and industrial parks are also part of the network. Municipalities and provinces support the biobased network.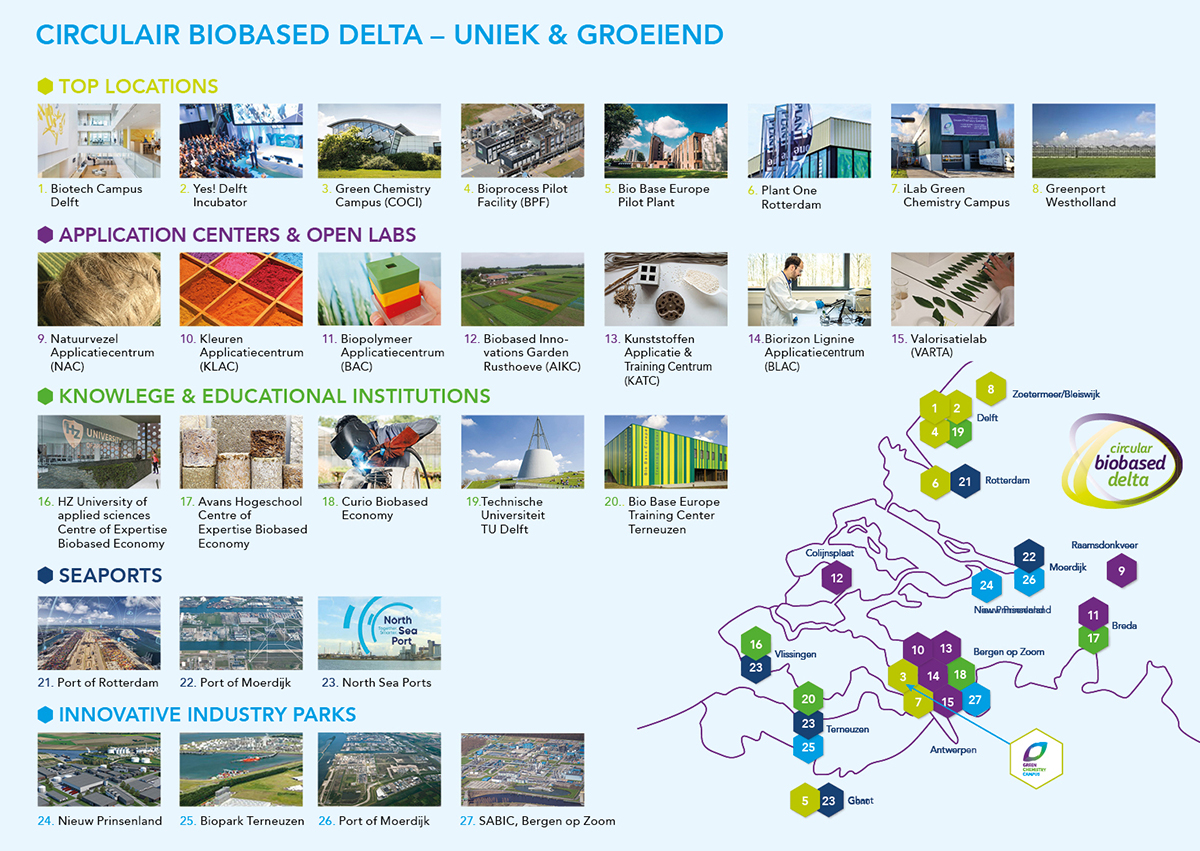 Businesses
Various companies in West Brabant collaborate with the Green Chemistry Campus. SABIC of course, as host and co-founder of the campus. Other companies also participate, including Allnex, Cargill and Cosun. Via the Campus you can gain access to specialized laboratories for scaling up biobased innovations. Not only at the Campus itself, but also with partners from the region we work closely with. This gives you access to a wide range of high-quality facilities via the Campus.
Biobased application centers in West Brabant
There are six specialized biobased application centers in West Brabant where research takes place and new products are developed. The experts at the application centers are happy to assist you in your research and development process. You are involved in the entire process and you watch and participate in the workshop.
Natural Fiber Application Center (NAC). Information and development of new natural fiber-based materials and products
Color Application Center (KLAC). Research into new natural dyes, from residual flows, plants and micro-organisms
Biopolymer Application Center (BAC). Development workshop for bioplastic products
Plastics Application & Training Center (KATC). Open innovation center for green plastics, natural fibers and composites
Biorizon Lignin Application Center (LAC). Shared research center for bio-aromatics
Biobased Innovations Garden Rusthoeve (AIKC). Research into agricultural crops as a raw material for ingredients, chemicals and building materials
Knowledge and educational institutions
The HBO educational institutions Avans and HZ work together with Green Chemistry Campus on biobased Innovations. The Center of Expertise Biobased Economy is central to the collaboration. Thanks to the cooperation, we can mediate in setting up (graduation) internships, or have your specific question examined by minor students.
The Dutch research institute TNO collaborates with the Flemish Institute for Technological Research (VITO) on campus in Biorizon. This Shared Research Center Biorizon, an initiative of TNO, VITO and the Green Chemistry Campus, focuses on technological development for the production of functional biobased aromatics.
Prime locations
As a prime location in the Biobased Delta, Green Chemistry Campus works together with the prime locations Nieuw-Prinsenland in Dinteloord and the port of Moerdijk. Together with the companies in Nieuw-Prinsenland, the focus is on the treatment of biomass. There is collaboration with Port of Moerdijk in the field of pyrolysis. Together we form a biobased corridor where the entire value chain in the field of biobased innovation comes together.
Municipalities and provinces
The municipality of Bergen op Zoom, the province of Noord-Brabant and the regional development company are shareholders of the Green Chemistry Campus.
Seaports
The Moerdijk deep-sea port is a short distance from the campus and is an important hub for the supply of biomass and / or other residual flows that can be processed into new products or into energy. Other (sea) ports in the Biobased Delta are: Rotterdam, Terneuzen, Vlissingen and Antwerp and Ghent (B). Bergen op Zoom has a container terminal with direct connections to Antwerp, Rotterdam and the hinterland, towards Germany.